MNTL student researchers win highly competitive NSF fellowships
Two of Electrical & Computer Engineering (ECE) Assistant Professor Can Bayram's students have won prestigious National Science Foundation Graduate Research Fellowships, and a third student received an honorable mention in the competition. Fellows receive a three-year annual stipend of $34,000 along with a $12,000 tuition and fees stipend, and they have opportunities for international research and professional development.
ECE doctoral student Richard "Dicky" Liu will use his Fellowship to continue his research on making gallium nitride (GaN) cubic crystals grown on a silicon substrate that are capable of producing powerful green light for advanced solid-state lighting. In 2016, Liu was the lead author on an Applied Physics Letters paper that described a new method for making brighter and more efficient green LEDs with the industry-standard metal-organic chemical vapor deposition (MOCVD) method.
ECE senior Ryan Grady, who is also exploring cubic GaN, is addressing key issues on the development of GaN high electron mobility transistors (HEMTs) that are normally-off for high power applications. The polarization field in traditional hexagonal GaN leads to normally-on devices, so Grady's approach involves using non-polar cubic GaN. His work has been largely simulation based, demonstrating the range of threshold voltages that the cubic GaN system can achieve.
Set to graduate in May, Grady plans to pursue work on the GaN material system either at Illinois, Stanford, or University of California, Santa Barbara.
ECE senior Josh Perozek, who received an honorable mention in the NSF Fellowship competition, has been conducting research with Bayram for the last two years. He was part of the team that recently advanced GaN-on-silicon transistor technology by optimizing the composition of the semiconductor layers that make up the device.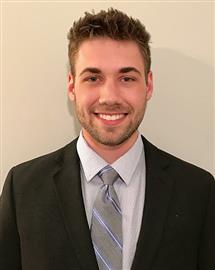 Specifically, Perozek characterized the uniformity of HEMT structures on large (8 inch) GaN on Si (111) wafers. This work was published in a January 2017 issue of the
Journal of Physics D
, and it showed that their GaN-on-silicon was comparable in quality with GaN grown on smaller and more expensive substrates like sapphire or silicon carbide wafers. Perozek is currently working on a process for thin film GaN devices to enable flexible electronics by eliminating the thick silicon layer.
The longest running Fellowship program in the country, NSF received more than 13,000 applications and made 2,000 award offers.