MNTL Grad Student Makes Strides in Photochemical Etching
A Micro & Nanotechnology Lab graduate student has made notable headway in photochemical etching with her most recently published paper.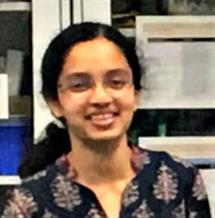 Aditi Udupa's paper is titled "Selective area formation of arsenic oxide-rich octahedral microcrystals during photochemical etching of n-type GaAs." According to Udupa, the main focus of her paper is to study the formation of "unique macro-sized octahedral crystals." It is co-authored by Xin Yu, a post-doc student, Lonna Edwards, a Ph.D. student, and Prof. Lynford Goddard, who is also Udupa's graduate adviser.
"These crystals form only in illuminated regions, and that too, in regions where the spot is large enough," Udupa explained. "In the paper, we present these findings and give hypotheses about why this occurs. The objective is to get a better understanding of the formation of these crystals, which are normally undesirable, so that we can prevent it to get smooth and featureless etches."
According to Udupa, the paper will be primarily useful for the semiconductor etching community, especially if they use photochemical etching as a tool. She said that these sorts of processes and mechanisms have been studied before as well, and through this paper, a better understanding is given and the potential for more studies to be done is described.
For her next steps in this research, Udupa said she hopes to work further on using the photochemical etching process and apply it to different situations to see what else can happen. She said the result she got was "unexpected" and arose while she was doing other studies with photochemical etching.
Udupa said she used many MNTL facilities, such as the cleanroom, mostly for devices such as waveguide and photodiodes. She also used many of the chemicals provided by MNTL.
"The MNTL cleanroom has very well-maintained tools and the staff is always willing to help us with our research," she said. "We are also grateful to the staff at MNTL who helped to make our experiments safe."
Along with her work and accomplishments here at Illinois and at MNTL, and the research she has been doing on octahedral crystals and photochemical etching, Udupa also plays an active role in GLEE as the graduate coordinator.
GLEE, or Girls Learning Electrical Engineering, is a camp geared toward high school students who want to pursue electrical engineering. GLEE allows these students to get experience with various projects and learning opportunities via hands-on approaches. GLEE has been coordinated by Prof. Goddard for almost nine years.
Her main role with GLEE, Udupa said, is to lecture on various modules, such as the Circuit Communication Systems session. She uses short demos and Labview programs to fully show the girls in the camp these various concepts and topics. Udupa has also led projects for students to do in the labs under the circuits topics. Some of these projects include building an LED calculator and understanding the operation of a radio phone.
Udupa said her favorite thing about working with GLEE is how challenging it is while also being a really enjoyable experience.
"What I especially like about GLEE is that, while it is a fun camp, it is also very technically rigorous," Udupa said. "My experience with GLEE in my first year was very positive and I enjoyed interacting with all the motivated students."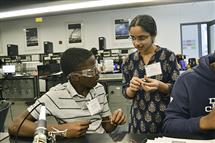 Udupa said that besides it being very enjoyable, GLEE also allowed students to get an idea of the kinds of learning and types of projects they will be working on when they're in college studying electrical engineering. GLEE allows students to gain a head start, which is important for any freshman entering university for the first time. Furthermore, the GLEE projects are hands-on, so the students can actually apply what they are learning, which is necessary in this field.
"The great thing about GLEE is that whatever you learn in class, you go ahead and apply it or see it in action," she said. "This makes them very inspired to go forward with learning electrical engineering."
Udupa is a James M. Henderson Fellow and a Joan and Lalit Bahl Fellow as well. As an undergraduate at the Indian Institute of Technology Bombay, she also received the Institute Silver Medal because of her number one ranking in her department, as well as the Institute Academic Award. Udupa started her Ph.D. in May 2017, and expects to graduate in 2019. After graduation, she hopes to pursue a teaching career.