Retired Intel executive receives College of Engineering Distinguished Alumni Award
Electrical & Computer Engineering alumnus Gerald T. Marcyk (BSEE '73, MSEE '76, PhD '78), former Director of Components Research at Intel Corporation, received the University of Illinois College of Engineering Distinguished Alumni Award on April 1, 2017.
Marcyk joined Intel Corporation in Hillsboro, Oregon, after graduation where he had a remarkable 24-year career. His research on ion implantation at the Coordinated Science Laboratory during graduate school led him to join Intel's DRAM technology development group. Starting as a process engineer working on memory and microprocessor development, Marcyk has worked on every microprocessor from the 386 through multiple generations of the Pentium.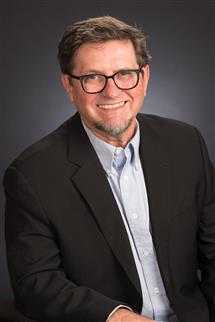 His last position before his retirement was director of components research, which made him responsible for silicon research with groups in Arizona, California, Massachusetts, and a dedicated research building in Oregon. Marcyk's research group set industry performance standards for transistor performance, advanced lithography, metal interconnects, and packaging. His research paved the way for the next three generations of microprocessor development and communication technology.

He has also served as a member of the Technical Advisory Board of the Materials Science Department at Cornell University and as a member of the Technical Advisory Board of the Semiconductor Research Corporation, and he was on the board of trustees of the Portland Waldorf School. He has also served on the board of directors for two start-up companies.

He retired from Intel in 2002, and his retirement has been far from typical. He has learned conversational Italian, been charged by a grizzly bear in Alaska, and swam with sharks in the Great Barrier Reef. Additionally, he sank an outrigger canoe in Bora Bora, hiked sections of the Pacific Crest Trail, been (perhaps too) close to flowing lava from the Kilauea volcano, rode on Cycle Oregon, pet a cheetah in South Africa, and survived a near-drowning in Hawaii.

The College of Engineering Distinguished Alumni Award, which was presented at a ceremony on April 1, 2017, recognizes outstanding leadership, creativity, entrepreneurship, and contributions to the field of engineering. In addition to Marcyk, other award winners included:

A.L. (Tad) Addy, PhD '63, Mechanical Engineering
Darren Guccione, BS '91, Industrial Engineering
Barclay G. Jones, MS '60, PhD '66, Nuclear Engineering
Melvin (Mickey) Kupperman, BS '57, MS '58, Civil Engineering
Der-Tsai (DT) Lee, MS '76, PhD '78, Computer Science
Sandra L. Rankin, BS '74, Computer Science