Famed Fab Lab opens in MNTL
A premier semiconductor and bionanotechnology research facility, the Micro + Nanotechnology Lab expanded its training mission this fall with the addition of the popular Undergraduate Fab Lab, which was relocated from its longtime home in Everitt Lab. The 2-year $3.7 million project involved renovating space at MNTL and moving equipment from Everitt Lab, which is undergoing its own renovation as the new home for the Bioengineering Department.
Part of the ECE 444 Theory and Fabrication of Integrated Circuits course, the Fab Lab enables 250 students each year to learn how to fabricate integrated circuits using modern equipment donated from industry. Companies like Intel, IBM, Texas Instruments, Micron, Lam Research, Taiwan Semiconductor Manufacturing Company, and many others value the lab course because of how it prepares students.
"Having one of the oldest and best undergraduate hands-on instructional facilities for microelectronics fabrication under our roof will continue to provide our students with a learning experience that uniquely prepares them for graduate research or careers in the semiconductor industry," said MNTL Director Brian Cunningham. "Our students are carrying out processes like diffusion of impurities into silicon, growth of dielectric materials, photolithography and thin film deposition, which are also some of the steps used for making LEDs, semiconductor lasers, micromechanical transducers, and biosensors."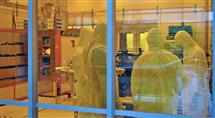 Added ECE Professor Xiuling Li, the ECE 444 course director: "The new location gives higher visibility to both ECE 444 and MNTL."

While the new Fab Lab has just one floor of classroom space, it actually takes up two additional floors to house fans, ductwork, and ancillary air-scrubbing equipment, which maintain the cleanroom environment required for making integrated circuits.

ECE 444 Engineering Teaching Lab Coordinator Dane Sievers worked closely with MNTL Facilities Director Ken Tarman and contractors throughout the renovation process to ensure the project remained on schedule. Sievers received the completed lab space on July 5, 2016, and he was given the seemingly impossible task of having the entire Fab Lab up and running by the start of classes on August 22nd, 2016.

According to Sievers, the first week of classes were really no different than previous years thanks to some extensive planning. Despite the stressful nature of the move, Sievers did enjoy the opportunity to improve the flow of the Fab Lab.

"Based on 20 years of experience, I could set things up differently," Sievers said. "We still have the same equipment, the same process, the same course material, but it's now arranged in a more organized fashion and a more logical layout. [The move] gave me a chance to refresh and make a bunch of little repairs to equipment that I could not do while the course was on."

With the Fab Lab relocation project completed, Director Cunningham is already looking ahead to further update the research capabilities of MNTL. Just this year, four new professors have joined the faculty at MNTL, bringing their research groups, specialized methods, and new equipment into the lab space.

For example, Minjoo Larry Lee is building complex semiconductor structures for applications in solar cells; Yurii Vlasov studies integrated photonics and is also exploring their applications to neuroscience; Pete Dragic is fabricating fiber lasers that can be structured to emit high intensity light, which will have applications in sensing and materials processing; and Viktor Gruev is working on projects related to spectroscopic imaging whose applications include surgery, tumor margin detection, and agriculture.