Illinois professor and alumni receive Draper Prize
A University of Illinois professor and two of his former students are among the five pioneers of LED technology honored with the 2015 Draper Prize, one of the most prestigious awards in engineering.
Nick Holonyak Jr., a professor emeritus of electrical and computer engineering at Illinois and the inventor of the first visible-light LED, and Illinois alumni George Craford and Russell Dupuis, who studied under Holonyak, were among five innovators honored by the National Academy of Engineering, which administers the $500,000 prize sponsored by Draper Laboratory.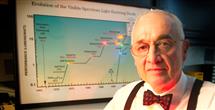 Holonyak (pronounced huh-LON-yak) is credited with the development of the first practical light-emitting diode, or LED, in 1962. One of the earliest researchers in semiconductor materials and devices, Holonyak is a pioneer in the field of optoelectronics, devices that convert electricity into light or vice versa.
LEDs now are commonly used on items ranging from instrument panels to traffic signals to flashlights. The Draper Prize announcement cited LEDs' ability to "produce the greatest amount of light for the energy used, and have the longest lifetime of any lighting source available."
At the University of Illinois, Holonyak holds the John Bardeen Chair in Electrical and Computer Engineering and Physics. The chair was endowed by the Sony Corp. of Tokyo in recognition of two-time Nobel Prize winner John Bardeen, also a U. of I. professor. Holonyak, Bardeen's first graduate student, earned his doctorate at Illinois in 1954, and the two worked closely until Bardeen's death in 1991.
Holonyak has continued to redefine optoelectronic technology throughout his career. In addition to LEDs, his innovation contributed to household dimmer switches, lasers that run CD and DVD players and fiber-optic communication.
Among Holonyak's numerous awards are the Lemelson-MIT Prize (2004), the Global Energy Prize from Russia (2003), the Institute of Electrical and Electronics Engineers Medal of Honor (2003), the U.S. National Medal of Technology (2002), the Japan Prize (1995), the National Academy of Sciences' Award for the Industrial Application of Science (1993), the Optical Society's Charles Hard Townes Award (1992) and the U.S. National Medal of Science (1990)
Craford and Dupuis both refined LED technology, laying the path for high-quality, commercial LEDs available today.
"Great engineers imagine new things - and build them," said Draper Laboratory President and CEO Kaigham J. Gabriel in a statement. "These LED pioneers created technologies that brought new light to our lives, spawning an industry that today boasts hundreds of thousands of jobs while making energy consumption more efficient."
Learn more about the path to the LED in the Big Ten Network documentary "A Brilliant Idea." Or, view George Craford's remarks at the Draper ceremony.