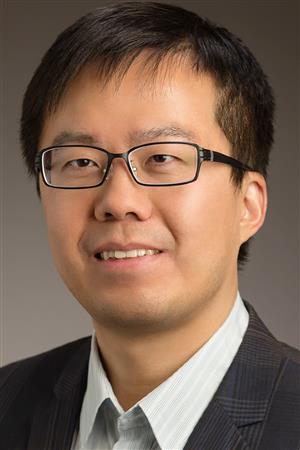 Kejie Fang
Assistant Professor
Electrical and Computer Engineering
2112 Micro and Nanotechnology Lab
For more information
Education
Ph.D. Physics, Stanford University, 2013
Research Statement
Research in Fang group focuses on study of light-matter interactions and light manipulation at micro- and nano-scales. Guided by exploratory theories, research emphasis is given to device demonstrations and multi-scale integrations for applications in photonic quantum information processing and quantum metrology.
Post-Doctoral Research Opportunities
Our group has an opening for postdoctoral researcher with background in photonics at large, and ideally but not required with micro- and nano-fabrication experiences. Please contact Prof. Fang (kfang3@illinois.edu) for more details.
Graduate Research Opportunities
We welcome highly motivated students to join our group. Our research intersects with several fields of science and engineering including nanophotonics, quantum optics, and NEMS, and offers rich opportunities for graduate researchers to be trained in device physics, fabrication, and testing. Incoming or interested students should contact Prof. Fang (kfang3@illinois.edu) with a complete CV, accompanied by a short paragraph highlighting relevant practical experience and coursework.
Undergraduate Research Opportunities
We welcome undergraduate students interested in photonics to gain research experience in our group. Students should have preliminary course study in electromagnetism, photonics, etc.
Research Interests
Quantum photonics
Optomechanics
Nanophotonics
Research Areas
Quantum Nanoelectronics and Nanophotonics
Selected Articles in Journals
K. Fang and Y. Wang, "Anomalous quantum Hall effect of light in Bloch-wave modulated photonic crystals", Phys. Rev. Lett. 122, 233904 (2019).
M. Zhao and K. Fang, "Mechanical bound states in the continuum for macroscopic optomechanics", Opt. Express 27, 10138-10151 (2019).
K. Fang, J. Luo, A. Metelmann, M. H. Matheny, F. Marquardt, A. A. Clerk, and O. Painter, "Generalized nonreciprocity in an optomechanical circuit via synthetic magnetism and reservoir engineering", Nature Physics 13, 465–471 (2017).
K. Fang, M. H. Matheny, X. Luan, and O. Painter, "Optical transduction and routing of microwave phonons in cavity-optomechanical circuits", Nature Photonics 10, 489-496 (2016).
K. Fang, Z. Yu, and S. Fan, "Realizing effective magnetic field for photons by controlling the phase of dynamic modulation", Nature Photonics 6, 782-787 (2012).
K. Fang, Z. Yu, and S. Fan, "Photonic Aharonov-Bohm effect based on dynamic modulation", Physical Review Letters 108 153901 (2012).
K. Fang and S. Fan, "Controlling the flow of light using inhomogeneous effective gauge field that emerges from dynamic modulation", Physical Review Letters 111, 203901 (2013).
Honors
Courses Taught
ECE 110 - Introduction to Electronics
ECE 487 - Intro Quantum Electr for EEs
ECE 498 - Quantum Optics & Devices
ECE 598 - Quantum Optics & Devices